Clan Macpherson Museum - News & Events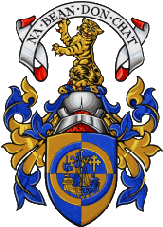 Simple Heraldry: Cheerfully Illustrated
Why does heraldry matter? Journalist Gordon Casely, a founder member of the Heraldry Society of Scotland, brings to life an ancient art that's on the rise and rise in 21st-century Scotland
Tuesday 9th October at 2pm, Clan Macpherson Museum, Main Street, Newtonmore. ALL WELCOME
FREE ENTRY - DONATIONS WELCOME IN AID OF THE CLAN MACPHERSON MUSEUM. Space is limited, so please phone 01540 673332 to book a seat
Fundraising
Do you want to help the Museum? Are you a UK resident? Do you buy goods on-line? If you can answer yes to all these, then read on!
The 'Clan Macpherson Museum' has been registered as a 'Good Cause' for Easy Fund Raising. See http://www.easyfundraising.org.uk/how-it-works . Over, 2,700 retailers, including most/all the big stores including Amazon, John Lewis, Argos, M&S, Tesco, e-Bay, etc. are included - see http://www.easyfundraising.org.uk/retailers. When you buy on-line via Easy Fund Raising, a small percentage, around 1-2%, goes from the retailer to your good cause, i.e. the Museum, we hope.
This is only available for UK residents. Registration is free and only takes a couple of minutes. If you tick the box for Gift Aid, every £1 becomes £1.25. You can (but don't have to) download the Easy Fund Raising tool bar - it has a box where you type in the name of the retailer you want and it immediately opens up the relevant website. It also displays the amount of money that you have raised. It is an easy way not to forget to use it when ordering on-line.
Please Register and use it, and advertise it to all your friends.
TripAdvisor Award
Yes, we have been awarded the TripAdvisor Certificate of Excellence! Thank you to all our visitors for taking the trouble to post their experiences on the TripAdvisor web site.
The Great War
Until 2018, members of the public will have the opportunity of visiting the largest ever exhibition mounted in the Macpherson Museum in Newtonmore. The exhibition, researched and set up by Ewen MacPherson, commemorates the role of the Macphersons in the Great War which claimed the lives of 499 clan members, two of them women.
As Museum Curator Ruiseart Alcorn explained in a media interview, the exhibition recalls the contribution of the Macphersons to this conflict, highlighting a number of extraordinary characters from across the world who took part, the communities they represented and artefacts associated with them. These included a British helmet damaged by shelling which is on display, and other mementos loaned to the collection by clan members.
The exhibition, which the Strathspey & Badenoch Herald will be featuring nearer the official anniversary of the outbreak of hostilities, is already attracting a lot of interest from the public. Admission to the Museum is free; all are most welcome.
The Macpherson Electronic Museum is now searchable
The Macpherson Electronic Museum (MEM) may now be searched based on keywords. The pages will be searched for any occurrence of the target word or words or phrase in the page title, sub-title or content.

© Copyright Clan Macpherson Association 2011-2020 - All Rights Reserved