Clan Macpherson Museum
Due to the current pandemic the Clan Macpherson Museum will be closed until 15 July 2020.
The health and wellbeing of our visitors, staff and volunteers is our priority and as such, the Trustees of the Macpherson Museum have decided to follow Government guidance and close the Museum to visitors at this time. We apologise for any inconvenience this may cause but would invite you to visit the Museum website and the virtual Museum or make contact via our contacts page. We will look forward to welcoming you to the Museum when the coast is clear and in the meantime wish you all well: keep safe!
We want to reopen for you soon, but we have been told the earliest we can welcome you back is 15 July 💔
Every day we are closed puts our charity at risk.
We understand lockdown measures need to be eased gradually but waiting for five more weeks means missing the start of the summer and losing £10,000 of critical funding which would help care for the artefacts in our Museum. Clan Macpherson Museum Trust will lose £40,000 this year at a vital time as we try to raise funds for replacing our roof.
✨All recent donations have been allocated to replacing the roof but more is required. We are grateful for your incredible support ✨
If you can, please help our Museum get through five more weeks without any visitor income. Please donate here.
Main Street,
Newtonmore,
Inverness-shire, PH20 1DE
SatNav reference: 57.063375, -4.123986
Telephone/Fax: 44 (0)1540 673332
E-mail:
The museum is located at the junction of the A86 Fort William Road and B9150 Perth Road, open 1 April to 31 October. Monday-Saturday 10.00am-5.00pm; Sunday 12.00pm-5.00pm. You can follow this link to Bing maps to aid you in getting directions or you can go to this page to get detailed instructions for travelling to see us by car, train, bus or cycling.
Subject to the Curator's availability, an appointment may be made to visit out of normal hours by special arrangement. Admission is free, but donations in the collection boxes are most welcome. Assisted Wheelchair Access is certified by Visit Scotland. Disabled facilities include access, parking and toilets. The entire exhibition is at ground floor level. Arrangements to view items not on display may be made by prior appointment with the Curator.
For those who cannot get to Newtonmore, an 'electronic' representation of the physical Museum (the MEM, or Macpherson Electronic Museum) is available in virtual mode from this page. Its principal purpose is to permit the Clan Macpherson members living in far-flung places around the globe to learn more about their heritage.
The MEM was conceived and implemented by Rod Clarke, a stalwart supporter of the Museum over many years. The Trustees and the Association would like to express their heartfelt thanks to him for this project.
The Clan Macpherson Museum is owned and run by a registered charity, the Clan Macpherson Museum Trust (registered in Scotland, charity number SC020005). Visitors making use of the Museum either in Newtonmore or via the Web) for research and similar purposes are encouraged to consider making a donation to the Trust. Please send your donation to the Hon. Treasurer, details for whom can be found on the Association Officers page
We are proud to be a Scottish Tourist Board Four Star Museum, have a TripAdvisor Certificate of Excellence, be Assisted Wheelchair Access Registered and an Accredited Museum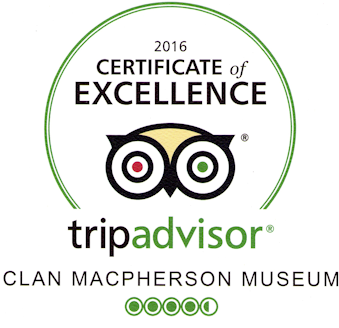 © Copyright Clan Macpherson Association 2011-2020 - All Rights Reserved