Clan Macpherson Museum
Newtonmore's Macpherson Museum to remain closed throughout 2020 season
Trustees of Newtonmore's Clan Macpherson Museum have agreed to keep the Museum closed throughout the 2020 season. The decision came after a virtual meeting on Saturday afternoon during which an extensive Covid-19 Risk Analysis and Policy was presented and approved.
Trust Convenor, Angus Macpherson, said: "Our primary concern has always been to safeguard the health and wellbeing of our staff and visitors to the Museum and with this in mind considerable work was put into developing a Covid-19 Risk Analysis and Policy. During our meeting, the Trustees indicated their total confidence in the policy but felt, on balance, that given the exceptional nature of this now-curtailed season and our exciting plans for the future it would be preferable not to open the Museum this year.
Over the coming years, the Museum will be going through a number major exercises that will see the Museum refurbished internally and externally, starting with the roof this winter. The Macphersoniana project launched earlier this year will also be further developed to create a digital exhibition of Macpherson-related personal objects and their stories to complement the permanent and temporary exhibitions in our Museum space. Designed to capture stories of what it means to be a Macpherson through these objects, 'Macphersoniana' will also connect 'cousins' from around the globe through their shared heritage.
The Museum has an exciting future ahead of it but in the meantime, our thoughts are with front-line workers who are involved in the Covid-19 response and those affected by the virus in some way. We urge them to keep safe and well at this time and will look forward to opening our doors to local and international visitors from across the world in spring 2021.
If you can, please help our Museum get through the rest of the year without any visitor income. Please donate here.
Main Street,
Newtonmore,
Inverness-shire, PH20 1DE
SatNav reference: 57.063375, -4.123986
Telephone/Fax: 44 (0)1540 673332
E-mail:
The museum is located at the junction of the A86 Fort William Road and B9150 Perth Road, open 1 April to 31 October. Monday-Saturday 10.00am-5.00pm; Sunday 12.00pm-5.00pm. You can follow this link to Bing maps to aid you in getting directions or you can go to this page to get detailed instructions for travelling to see us by car, train, bus or cycling.
Subject to the Curator's availability, an appointment may be made to visit out of normal hours by special arrangement. Admission is free, but donations in the collection boxes are most welcome. Assisted Wheelchair Access is certified by Visit Scotland. Disabled facilities include access, parking and toilets. The entire exhibition is at ground floor level. Arrangements to view items not on display may be made by prior appointment with the Curator.
For those who cannot get to Newtonmore, an 'electronic' representation of the physical Museum (the MEM, or Macpherson Electronic Museum) is available in virtual mode from this page. Its principal purpose is to permit the Clan Macpherson members living in far-flung places around the globe to learn more about their heritage.
The MEM was conceived and implemented by Rod Clarke, a stalwart supporter of the Museum over many years. The Trustees and the Association would like to express their heartfelt thanks to him for this project.
The Clan Macpherson Museum is owned and run by a registered charity, the Clan Macpherson Museum Trust (registered in Scotland, charity number SC020005). Visitors making use of the Museum either in Newtonmore or via the Web) for research and similar purposes are encouraged to consider making a donation to the Trust. Please send your donation to the Hon. Treasurer, details for whom can be found on the Association Officers page
We are proud to be a Scottish Tourist Board Four Star Museum, have a TripAdvisor Certificate of Excellence, be Assisted Wheelchair Access Registered and an Accredited Museum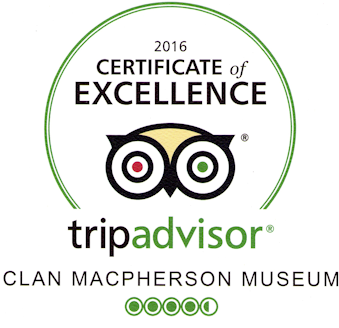 © Copyright Clan Macpherson Association 2011-2020 - All Rights Reserved