The Urlar
The United States Branch Magazine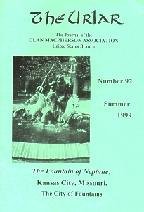 The journal of the United States Branch is one of the finest produced by any clan in the world. The present Editor is George McPherson. His mailing address is: 375 Spring Grove Road, Hollister, CA 95023. He may also be reached at
The Urlar is published once each quarter and is sent to every member of the US Branch of the Clan Macpherson Association.
The pages of the journal contain a biographical sketch of one of the members in a section called "Focusing on You." A message from the current Chairman of the US Branch. Additional pages in each issue are found to contain information about the happenings around the country, Highland Games at which the Association has been represented and announcements about the next Clan Gathering in the United States.
Informative articles will also be found about the history, culture, genealogy and myth of the clan both around the world and close to home.
For a glimpse inside the Urlar, please click on the links below:

© Copyright Clan Macpherson Association 2011-2018 - All Rights Reserved