Events
of Europe Branch
Europe Branch Ball, Rotterdam, The Nederlands, November 10th, 2018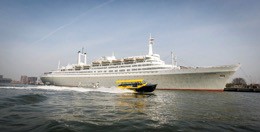 The Europe Branch proudly announces the very first Ball to celebrate formation of the newest Branch in Clan Macpherson Association. Please join us for a wonderful evening with your cousins celebrating this first Europe Branch gathering.
Hotel Reservations can be made on the SS Rotterdam at +31 10 297 3090. Please specify that you are with Clan Macpherson. Fifty rooms have been set aside at a room rate of €125 on Friday and €150 Saturday evenings. Other local hotels are also available within the city.
The Ball and Dinner will be held onboard a Party Boat Cruise at a cost of €65 per person. The dinner cruise will depart from and return to the SS Rotterdam. The after-dinner party will be held onboard the SS Rotterdam in one of the ship's lounges. Payment for the Dinner and Ball can be made by bank draft to NL13 ASNB, 0707982103.
For further information please contact the Interim Chairman, Will Tulling, at +31 6 55 77 44 25 or .
We appreciate your support and look forward to seeing you there.
If you are interested in attending any of our events, please contact the Europe Branch Chairman, .
Other Organisations' Events
There are other events that come to our attention from time to time that we think might be of interest to you. Below are any which are happening in the near future
Clans' Day
The Belgium and Grand Duchy of Luxemburg Clan Hay Association is organising a "Clans' Day" at Ypres on 6 October to which we are invited. Full details are available from here.

© Copyright Clan Macpherson Association 2011-2022 - All Rights Reserved