Canadian Branch Gathering
CMA Canadian Branch 68th Annual Gathering, 15 to 17 September at Brantford ON
This event has concluded!
STEP 1: Book Your Hotel Room
Book your room at the Best Western Hotel and Conference Centre in Brantford, September 15 thru 17 2017.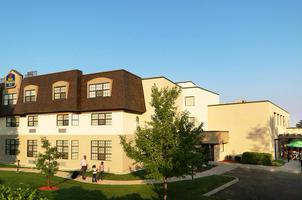 A block of rooms is set aside, consisting of suites @ $129.99 per night and standard rooms @ 109.99 per night plus tax. The cut-off date for these rooms is August 15 so book now to avoid disappointment. The hotel will honour this rate as long as rooms are available but we are advised this is busy time in Brantford.
For room bookings contact the Best Western Hotel and Conference Center at toll free 1-877-341-1234 or local 1-519-753-8651. Reference "Clan Macpherson."
STEP 2 – Plan Your Stay in Brantford
Brantford is located on Hwy 403 and is 100 km (60 miles) from Toronto to the east and London to the west. The nearest airport is 50 km (30 miles) away located south of Hamilton. Airports located in all three cities serve Brantford.
| | |
| --- | --- |
| | Did you know that Alexander Graham Bell conceived the telephone while he was living in Brantford? Did you know that he set up the world's first long distance telephone call between Paris Ontario and Brantford? You can visit the Bell Homestead and Museum to find out more. |
THINGS TO SEE AND DO ON SEPTEMBER 16
Brantford is a Best Blooming city winner and has flower bed displays in various parks throughout the city.
For those who like a good walk, there are marked trails in the area
STEP 3 – Get Ready for the Gathering
The Schedule of Activities for the Gathering is designed to maximize your stay in Brantford and allow time to meet old friends and new:
SCHEDULE FOR GATHERING
WHAT
WHEN
WHERE
Notes
Friday September 15
Check-in to Hotel
4:00PM
Lobby
Registration
4:00 PM to 6:00 PM
Lobby
Supper
5:00 PM to 7:00 PM
Restaurant
At Member expense
Chairman's Reception
7:00 PM to 11:00 PM
Gretzky Room
Snack will be available
Saturday September 16
Breakfast
7:00 AM to 10:00 AM
Restaurant
Discount Coupon
Council Meeting
8:00 AM to 11:00 AM
Alex Graham Bell Room
Annual General Meeting
11:00 AM to 12:00 PM
Alex Graham Bell Room
Lunch
12:00 PM
At member expense
Free time
12:00 PM to 6:00 PM
Members choice
See list of Things to See and Do
Cocktails
6:00 PM to 6:45 PM
Alex Graham Bell Room
See after dinner program
Highland Dinner
7:00 PM to 11:00 PM
Sunday September 17
Breakfast
7:00 AM to 9:30 AM
Restaurant
Discount Coupon
Rendez-Vous at Church
9:45 AM
Central Presbyterian Church 97 Wellington St
Kirkin O' the Tartan
10:00 AM-11:00 AM
Group Photo
11:00 AM to 11:15 AM
Victoria Park
Near church
Check-out of Hotel
12:00 PM
Sunday Tea
1:00 PM
Bob and Sondra Archibald Residence
25 Golfdale Rd., Light lunch available
We are offering a special menu at the Highland Dinner for children accompanying their parents. There are choices to suit almost everyone.
Adult and Youth (14 -18 years incl.)

Starters: Scotch Broth and Mixed Salad
Main Course:

Prime Rib of Beef, or Maple and Ginger Glazed Salmon, or Stuffed Pepper
Roasted Potatoes
Neeps or Vegetable Medley

Dessert: Adult - Drambuie Bread Pudding. Youth-Bread Pudding
Adult menu includes choice of red or white wine

Child (4 – 13 Years incl.)

Starter: Mixed Salad only
Main Course:

Reduced size portions from adult menu choices,
or Chicken Fingers with fries,
or Pasta Marinara

Dessert: Bread Pudding

Infant (3 years or less) - No charge for the meal
The menus choices for each person will be entered on the Gathering Registration Form which is returned to the Hon. Treasurer. Meal tickets reflecting the choices made will be issued at Registration time in Brantford. These will be presented to the waiting staff at the dinner.
STEP 4 – Registration - NO LONGER AVAILABLE - EVENT HAS CONCLUDED!
This year you will have a choice of manual registration using a fill-in form that is returned with your cheque or money order by post, or an on-line payment by PayPal using an on-line form.
To encourage participation by families we are offering special registration rates for younger persons accompanying their parents.
Members are encouraged to register before September 10 to ensure that meal selections can be filled by the hotel.
For additional information and assistance contact:
Edward (Ed) Smith CD
Chairman, Canadian Branch Gathering Committee
or
519-802-8821