Clan Macpherson Association 2020 Annual General Meeting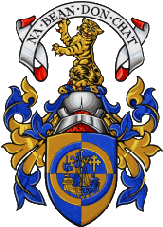 The CMA Constitution (which can be seen here) requires that we hold an Annual General Meeting to inform members of the progress and operation of their Association. Notice that the meeting was to be held in Newtonmore, Scotland on Saturday 1 August was sent out in this year's Creag Dhubh. Because of the world-wide pandemic this will not be possible. To give the members access to all the information and allow them to ask questions the AGM, for this year only, will be on-line.
The AGM will be open on this page from Monday July 27 to Saturday August 8. If you are a member for whom we have an email address you will be sent an email with the details. If you have not received that email by 20 June, please send an email request to the CMA Secretary, Sandy Macpherson, at giving your address and Branch. If you want to propose a motion or nominate someone for office, the procedure for doing that is in Section 10 of the Constitution.
If you are a member, please come back here on or after 27 July to 'attend' the AGM.