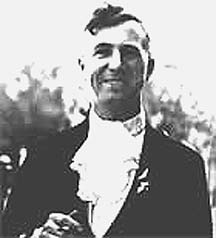 Donald Currie Caskie was one of eight children of crofter Neil Caskie and his wife Margaret Currie, and was born in Bowmore on the Isle of Islay in 1902. He was educated at Bowmore School, Dunoon Grammar School, studied Arts and Divinity at the University of Edinburgh from 1923-1926 and at New College, Edinburgh from 1926-1928. He was appointed Assistant Minister at the High Church on the Mound at Edinburgh and his first charge was at Gretna, before becoming the minister of the Scots Kirk in Paris in 1938 at the age of 36.
Having denounced the evils of Nazism from the pulpit, following the German invasion of France in 1940 Caskie had to flee from Paris. Instead of returning home, as strongly advised by staff at the Church of Scotland Offices in Edinburgh, he fled south, eventually ending up in Marseilles on the French south coast, having refused the opportunity of a place on the last ship to Britain leaving Bayonne. At the British and American Seamen's Mission in Marseilles Donald Caskie set up a refuge for stranded Britons. He would even send telegrams to the Church of Scotland offices in Edinburgh informing them of the number of British service personnel who had escaped. With the help of Lt. Commander Pat O'Leary, RN (later awarded the George Cross), British Intelligence, local clergyman Pastor Heuzy, the American consular authorities and others, Caskie helped many allied service personnel to flee France.
Donald Caskie came under suspicion of the Vichy France and German authorities, but it was a fellow Briton who betrayed him. Pastor Heuzy was amongst many to be executed. Lack of evidence saved Caskie's life for the first time; instead he received a suspended prison sentence and was ordered to leave Marseilles. This was partly helped by Caskie's ability to speak Gaelic, confounding his interrogators.
Caskie headed for Grenoble, acting as chaplain amongst the captured British soldiers. The Nazis had ordered that all British-born civilians in the occupied countries be interned in Germany. In a calculated risk, Caskie managed to influence the Italian camp commandant to release civilians. Caskie was arrested again and imprisoned, interrogated and tortured at a number of different prisons including the Caserne Hoche in Grenoble, the Villa Lynwood in Nice, in a medieval 'bottle' cell at St. Remo, the Prison of St Pierre at Marseilles and Fresnes in Paris.
Continued on next item